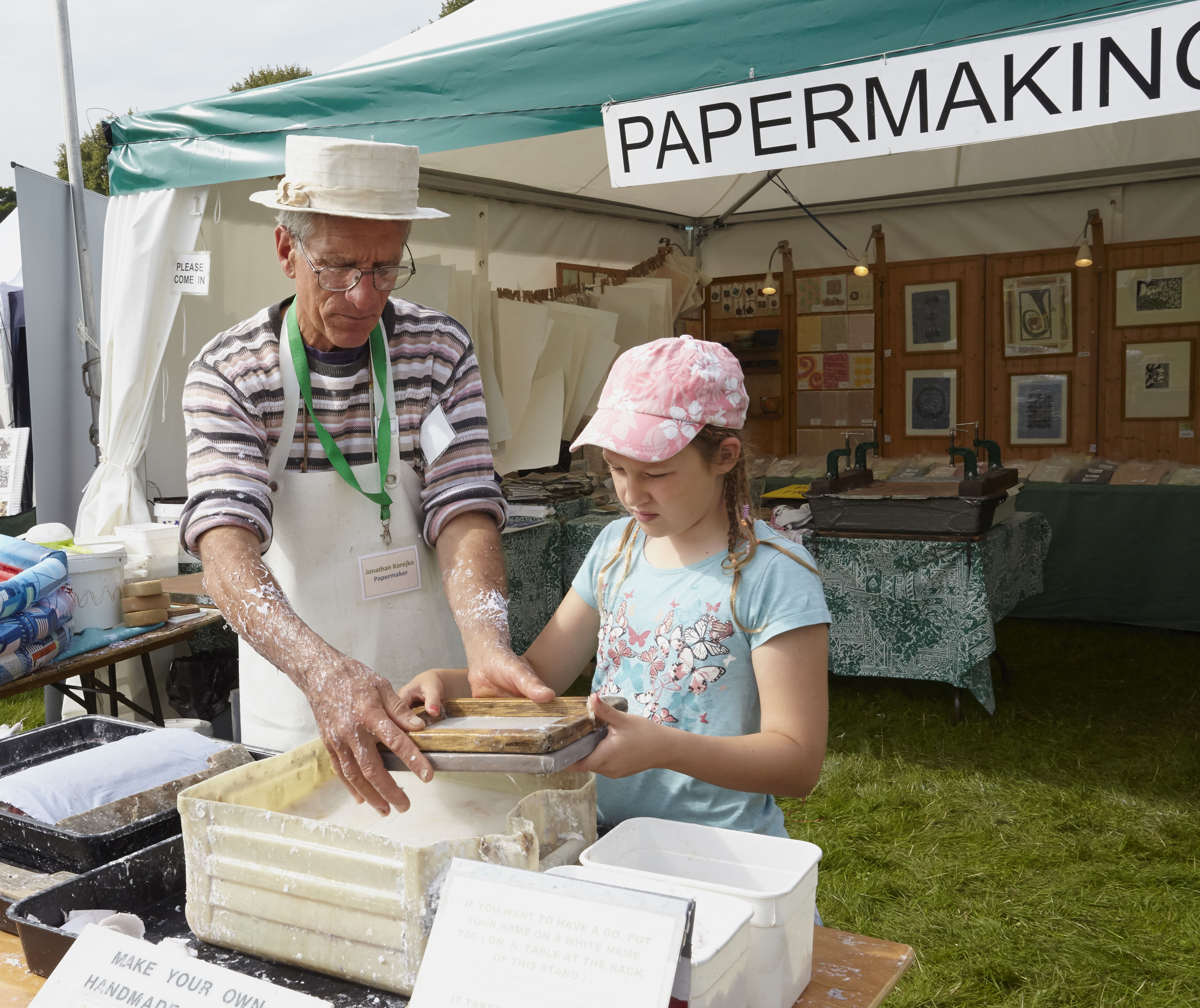 Interactive, fun workshops for all the family!
Workshops
Our workshops are a great way of getting even more from your day and give you the opportunity to try something new, and come away with a finished piece to keep.
We are thrilled to be able to offer workshops in a safe way. More workshops will be added so keep an eye on this page!
CLICK HERE TO VIEW ALL WEALD OF KENT WORKSHOPS AND TICKETS
PLEASE NOTE: Workshop tickets must be purchased with a valid Weald of Kent Country Craft Show ticket.
GILDING & CALLIGRAPHY WORKSHOPS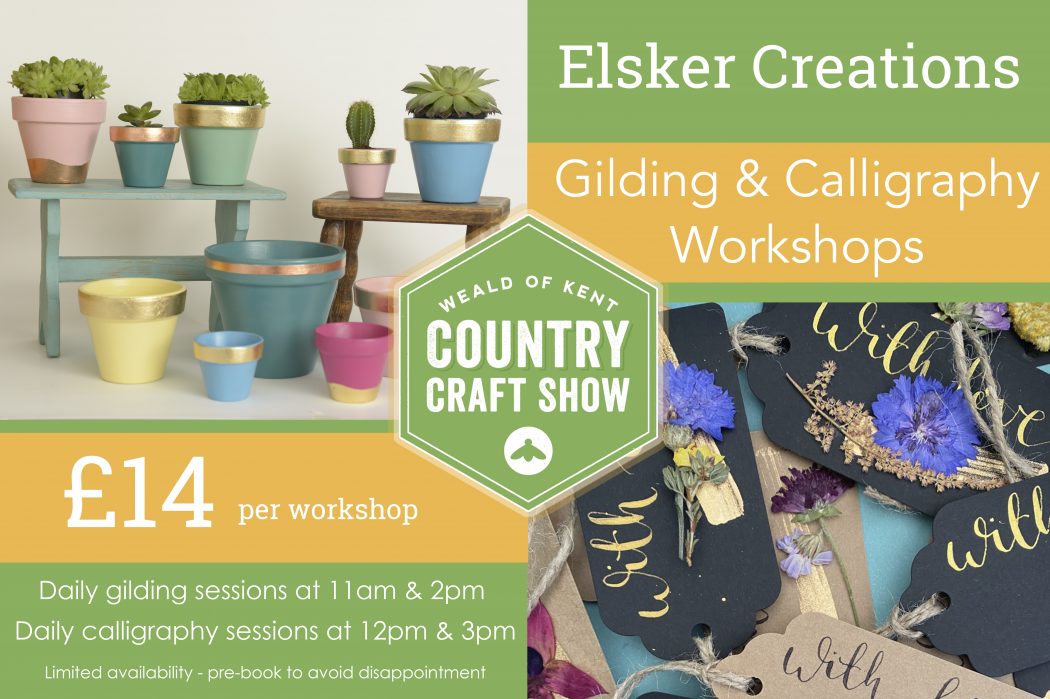 GILDING WORKSHOP – Sian, the founder of Elsker Creations, will teach you the basics of oil based gilding. Working on a plant pot or frame, you will be introduced to the steps and products used for this versatile technique. This workshop is designed to give individuals the confidence to apply this fun and shiny skill to home crafts. Ideal for the beginners and occasional crafters!
CALLIGRAPHY WORKSHOP – In this workshop, Sian will teach participants the basics of modern calligraphy. From how to hold the pen, brush strokes, nib pressure and be provided with guides. Participants will then have a go at putting letters together to write their name or a short quote on a letterpress printed card that they will take home. The guides will also be available to take away so that they continue to practice this lovely craft at home.
These 45 minute workshops are available every day for adults only, running from Saturday 30th April to Monday 2nd May, at the following times:
GILDING – 11.00am & 2.00pm,
CALLIGRAPHY – 12.00pm & 3.00pm
BELGIAN CHOCOLATE TRUFFLES WORKSHOP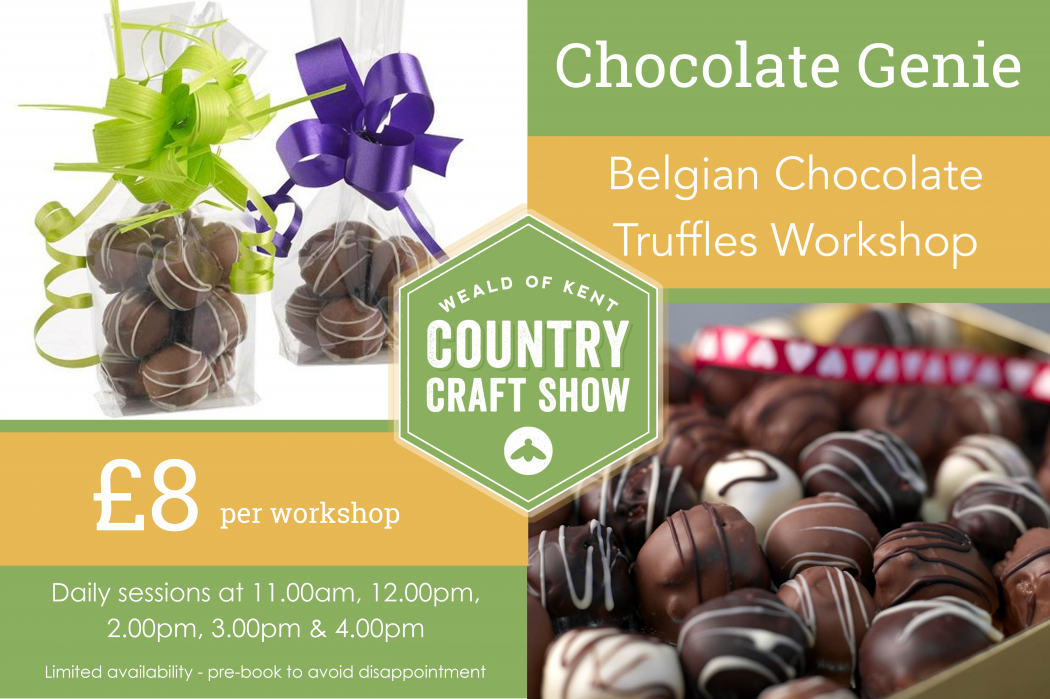 Do you want to learn how to make your own Belgian chocolate truffles? Chocolate Genie will teach you the steps from how to pipe a filling, to chocolate dipping and decorating six tasty truffles. Finally, you'll gift wrap your delicious chocolates to enjoy at home… if you can wait that long!

This 25 minute workshop is available every day for adults only (we have kids' mini sessions available – see details below) from Saturday 30th April to Monday 2nd May, with five sessions per day: 11.00am, 12.00pm, 2.00pm, 3.00pm & 4.00pm
BOOKING IS ESSENTIAL & SPACES ARE LIMITED
Please note:
This Belgian Chocolate Truffle workshop will be available to book on the day of visiting, but subject to availability. The on-the-day price will be £8.50 so book online to save and avoid disappointment!
CHILDRENS' CHOCOLATE DROP IN SESSIONS
Kids can enjoy a 5 minute mini session, working with 100g Belgian chocolate and decorating a shape using an assortment of toppings. They can be taken away to eat or Chocolate Genie can gift wrap. This is suitable for all ages.
Priced at £5.00, this workshop is available all day, continuously, subject to availability and there's no online/ pre-booking required.


SILK SCARF MARBLING WORKSHOP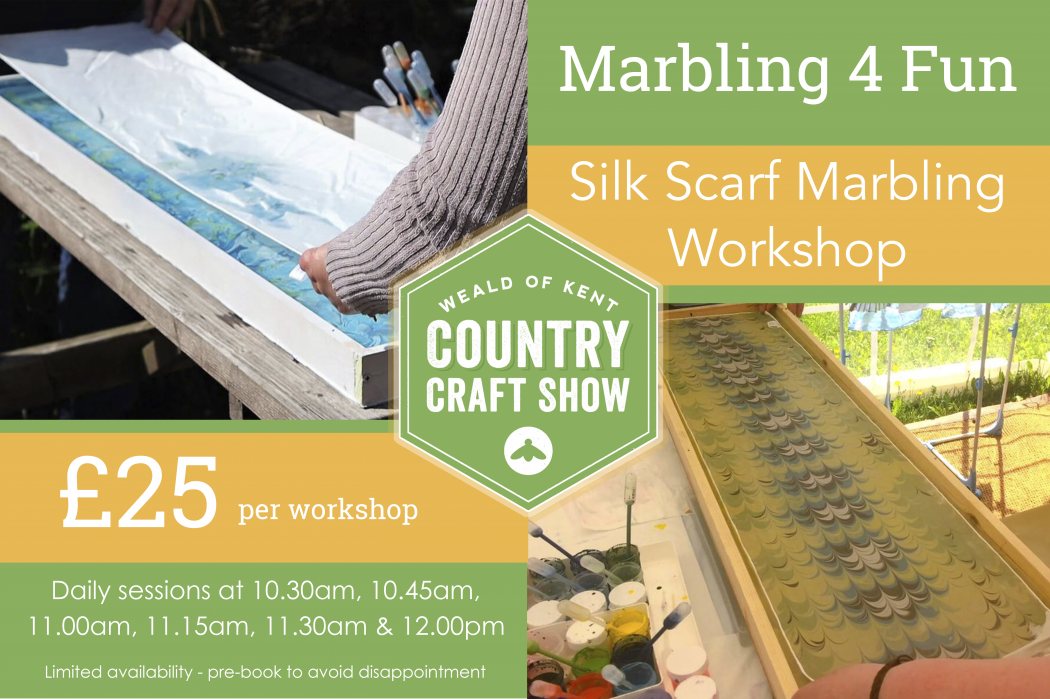 Marbling creates beautiful individual masterpieces and this workshop allows you to make your very own unique silk scarf. Choose your own colour palette, swirl your own design and come away with a stunning scarf that you can wear with pride, knowing that it's one of a kind!

This 15 minute workshop is available every day from Saturday 30th April to Monday 2nd May at:
10.30am, 10.45am, 11.00am, 11.15am, 11.30am & 12.00pm
BOOKING IS ESSENTIAL & SPACES ARE LIMITED TO ONE WORKSHOP PER TIMESLOT
MARBLING DROP IN SESSIONS


As well as the pre-bookable scarf marbling workshop, Marbling4Fun will also be offering drop in sessions each day, subject to availability, and there's no online/ pre booking required. Theses drop in sessions are suitable for adults and children alike and are as follows:

Pendant necklaces with matching marbled cards (£5)
Books marbling one side with matching bookmark (£10)
Silk Fans (£15)